About Taking A Reveal Yoga Class Have Clearance from Health Care Provider Before Starting Yoga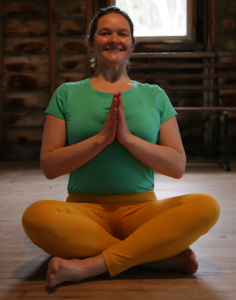 Wear comfortably fitting clothing that allows freedom in movement
Have Props available : 2-3 Blankets, strap, 2 blocks, bolster, sticky mat
At Home Substitute Props: Thick Books for blocks, clothing belt for strap, home blankets and cushions
No Refunds for missed classes
Class Experience
Begin with quiet seated practice and optional chanting of AUM
Work with physical poses
Follow instructions closely and ask questions for clarification
End with reclined relaxation poses
Ready to begin yoga?  Sign up online!
For Practice Ideas Read the Yog Blog
Testimonials
"I have loved these classes! Not being seasoned in yoga practice, I find them easy to participate in. They have been a wonderful combination of stretch, relaxation, and strength training. Monica is a caring, calming, and attentive instructor. I have really loved her classes!"
-Susan Stern
"Having just finished a year's course of chemotherapy, I participated in Monica's yoga classes twice per week this past summer. The stretching and holding of poses strengthened my weak back and toned up muscles. I feel so much stronger as a result of Monica's guiding exercises. I had always wanted to experience yoga, but didn't feel really motivated until this summer. Monica has convinced me of the wholesome benefits to mind and body of yoga."
-Karen F.
"Monica's sessions are comprehensive which enhance body strength and mindful awareness. I find my body much more flexible at the end of class as her session builds up gently. "
-Dorothy Quinn
"Participating helps my flexibility, but more importantly, it supports my spiritual well-being."
-Alan Pilgrim
I very much enjoyed the classes.
Monica has a very calming voice which is easy to listen to.
Classes are always challenging but not over the top.
I appreciate the work on cognitive skills as well (following directions).
-Tammy McKenzie, Landaff, NH
"I decided to try yoga for help with balance, range of motion, and pain following a motorcycle accident. I'm so glad I did! I could tell after the first class that it was going to be beneficial!
Monica is pleasant, patient, and very knowledgeable. Class is fun and I look forward to it each week."
-Crystal B